Rainbow Mountain Vinicunca trek in 1 day - 2022 & 2023
---
---
The Vinicunca or Rainbow Mountain in Cusco, Peru, is an exclusive and unique place in the Andes, here you enjoy the beautiful scenery of the attractive Ausangate snow Mountain, the Andean Valleys of the Incas, and sacred snow-capped mountains such as the Ausangate Apu, Vinicunca mountain is an amazing tour to visit and explore in Cusco, during the Full day tour you can see the impressive colors of the mountain and its landscape, with stunning snow-capped mountains, also, along the way you can enjoy the Andean Fauna "llamas, alpacas and much more".
The "Rainbow Mountain" via Cusipata full day trek is a new short trail to hike to Vinicunca mountain: also know Vinicunca is an undiscovered land full of wildly desert landscapes, snowcapped glaciated peaks, herds of alpaca and pristine beauty of the Andes. The Rainbow Mountain Full Day is an amazing option trek leaving from Cusco.
On this walk you will see picturesque villages, beautiful "adobe" houses, herds of llamas and alpacas, and you will have a magnificent view of the glacier Ausangate (6,385 m / 20,945 feet). With the beauty and uninterrupted solitude, this is a spectacular journey for hikers who love a true outdoor adventure.
Secondly, ITEP Travel offers high altitude ecotourism in the mountains, Vinicunca Full day Tour is one of them; and is perfect for nature lovers; this is a new authentic experience in the Andes of Cusco. Join an exclusive ITEP Travel group; Cusco explorers like you who seek to achieve their dreams in Cusco, Perú and Machupicchu.
So if you are in Cusco or wherever, don't miss out, the Rainbow mountain Tour will be an spiritual gate to the Andean Gods, such as the Mother Nature # Pachamama, we are sure that you will have an unique and memorable experiences, Also there is Vinicunca 2 days tour with an overnight in our Andean Lodge and we can fix travel packages in Cusco including the experience for Rainbow Mountain.
ITINERARY
Day 1: By car: Cusco – Cusipata.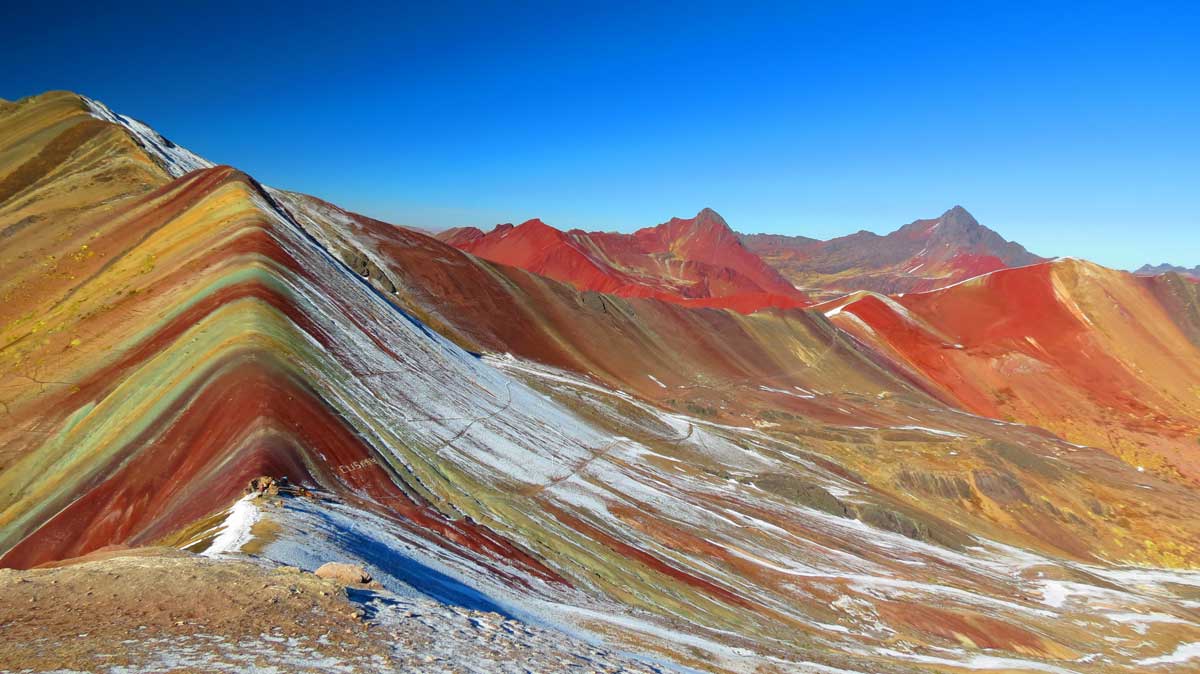 ---
Walking Time: Approximately 3 hours (Including a picnic lunch in the route).
Walk and Terrain: Walk, canter on open roads, some steep ascen
Trekking Cusipata – Vinicunca Mountain 13 Km (8.08 miles).
---
Very early in the morning "5am", Pick up from your hotel, we will begin our adventure towards the rainbow Mountain "Vinicunca". We go with our transport to the community of Cusipata by paved road approximately 1:30 hours, then continue along the Cusipata branch for a space of 30 minutes more, until arriving at Chillihuani village, where we will pass through picturesque places such as Tintinko, Rio Tigre, we will observe the Mountain of Surina from the Llacto village, then we will pass the control of the local government of Cusipata, in this place you can appreciate the flora and fauna in their natural habitat. (Llamas, Alpacas, Vicunas, etc.). Where we will continue our journey along a road for about 20 minutes until we reach the starting point of our walk.
We began our adventure towards the Rainbow Mountain for 1 hour and a half approximately, where we can appreciate panoramic views such as the Red Valley and Mountains with Nevado del Ausangate and small lagoons, where we will have lunch and we will be able to appreciate and take pictures of the Mountain of colors. Then we will begin to descend to our starting point for 1 hour and a Half approx.
Our Transport will be waiting for us there. Then return to Cusco for 2 hours approx. We are going to arrive at 5:00 p.m. approx. and we will leave you at your hotel.
ding trail
---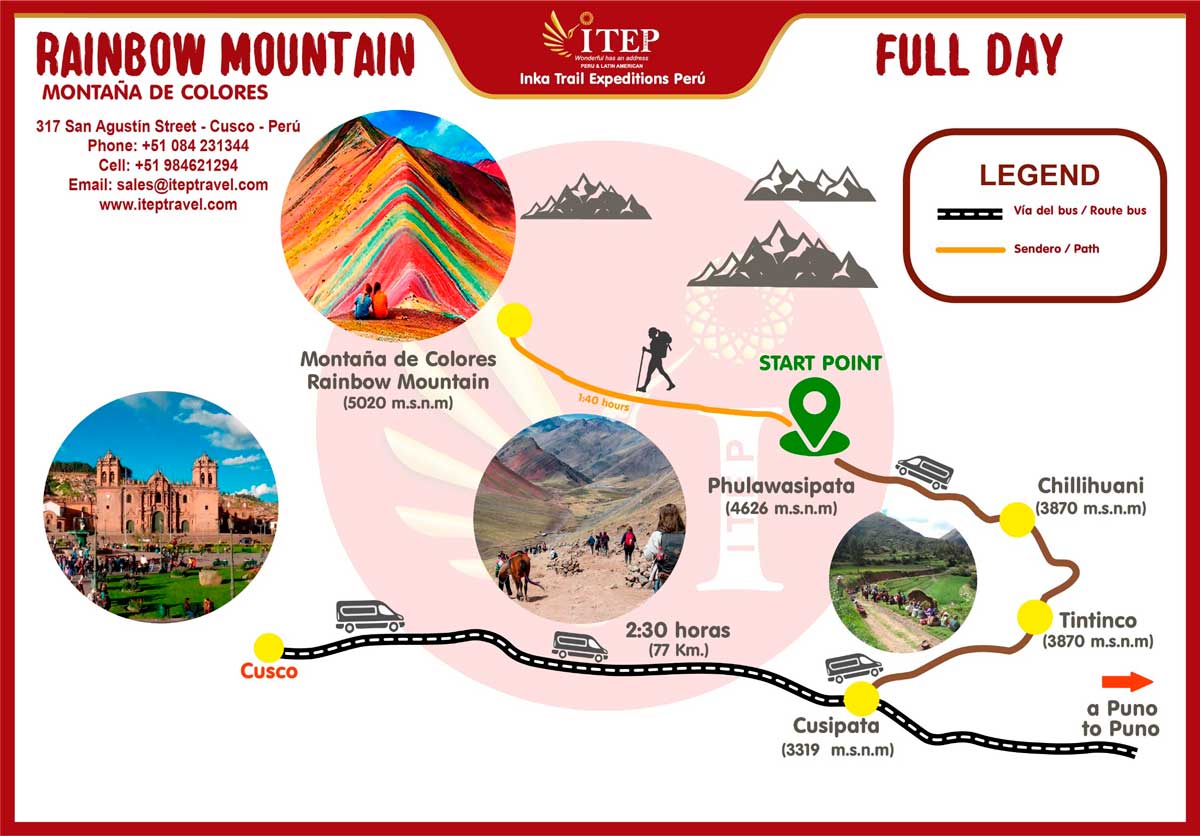 ---
End of our Services
INCLUDES
Pre-departure briefing: You will meet your Rainbow Mountain guide and group in our office for an orientation before your trek. At this time, we will provide you with the duffle bags which will be carried by our Porters. The meeting will be at 6:00 PM, the evening before the trip begins. In case you can't come at this time "please let us know" to coordinate another time.
Touristic Transport: You will be picked up from your hotel in Cusco in the morning and will travel by private transportation to Tinki Village the starting point of the trek to the Vinicunca Rainbow Mountain.
Adventure Experienced rainbow Mountain trek Tour Guide: English speaking, professionally educated, and official tour guide with tourism certification. They all grew up in this region and have a true passion to teach others about their heritage. Your guide will explain the culture and surroundings along the entire route, including leading your group in ancient ceremonies! He or she will keep you safe, sound, and comfortable on your trek so that you can enjoy your time along the Inca path and will ensure you are safe and happy.
Entry ticket to the Rainbow Mountain trail
Meals: 1Breakfast, 1 Lunch, (Vegetarian, vegan, or special menus are available at no extra cost)
Medical kit and Oxygen bottle: Our crew will bring a first-aid kit, including emergency oxygen bottle.
Transfer back to Cusco: Private touristic transport from Paqchanta Village to your hotel in Cusco (Day 1)
24-hour guest service: We have telephone service available 24 hours/day for ease of communication and preparation with the agency leading up to your trek
WHAT IS NOT INCLUDED
Walking Sticks: You can rent a set from our company if you would like.
Personal clothing and gear
Travel Insurance
Tips for our staff: Please note that our agency staff is well paid so please feel free to tip or not as you wish "Recommendation: Take usd 6 to usd 8 per day per traveler for all the trek staff"- Once again it is optional and can vary according your satisfaction.
Additional costs or delays out of control of the management (landscape, bad weather condition, itinerary modification due to a safety concern, illness, change of government policy, political instability/strike, etc.)
Molecular COVID-19 test: We can add a COVID-19 test for USD 95 per person to your package. The test can be taken at your hotel one night before your return flight.
YOU NEED
Original Passport
Day Pack
Full rain gear or poncho
Gloves (thin riding and warm gloves)
Trekking pants
Breathable dry fit top-wear
Headlamp
Sunglasses
Hiking socks
Sunscreen
Insect repellent
Bathing suit
Comfortable shoes/flip-flops
Cold-weather jacket
Long-sleeve fleece/sweater Wool hat
Hiking boots
Baseball cap, sombrero and bandana
Casual mountains wear for evenings
Photo/video cameras and chargers
Binoculars
Refillable water bottle (hydration bags are recommended)
RESERVATIONS
For availability of spaces for this service, please contact us info@incatrail.org and we`ll send you detailed information, prices, terms and conditions.
Please keep in mind that significant price reductions are available for groups. All our tours are fully guaranteed, departure every day. Contact us for more information for the tour that you are choosing, or to begin customizing your own itinerary. recommendations:
"ITEP Eco Travel is a tour operator travel agency in Peru and the city of Cusco, We really know what we do and offer, We are well managed, with several offices in Peru and a long list of travel destinations, offering all travel alternatives in Perú, from family trips, honeymoon trips and luxury travel, including adventure tours and exploring trips to the jungle, for almost any budget"
NOTE: ITEP Eco Travel, specializes in organizing the ideal travel plan to Peru, with hotels and destinations that you choose, because we have all confidential and promotional rates. For guidance on how to organize your custom package. Please write us.