Inca Trail Difficulty Level
---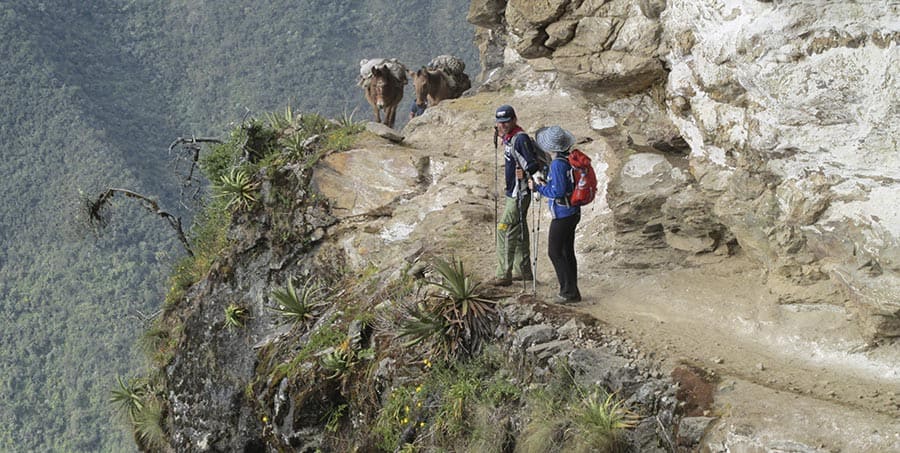 ---
All treks in Perú are quite difficult, so you should be well prepared and healthy before setting out on a hike. This hike requires a moderate level of fitness.
The first two days involve a lot of walking, so try to do a 10km walk in a day or a gym session in a month before the walk. The good news is that everyone who has taken up hiking in recent years has completed them!.If you are really struggling, we have emergency horses that you can ride if you are not fit for the trek.
The best time to start a travel with trail is just from May to October, in this months Cusco and also all the Perú has many festivities, like Inti Raymi the main festival of the Incas here in Peru.
If you want to travel to Perú (the Inca Land) and you want to do a hike you have to know that at the final part is always the best! why? for example in Inca Trail, you are going to see Machu Picchu, but before that you can take a refreshing dip in Aguas Calientes.
Don't miss this travel in Cusco - Perú with ITEP Eco Travel, we are specialist in travel, treks, hike, we are the best!
Day 1: Cusco - KM82 – Wayllabamba
From Cusco, you will head out with your group and guide to KM 82 to start your Inca Trail trek. It should take about 2-2 ½ hours to reach KM 82 which also is our first check point for the Inca Trail. From the first checkpoint, we will go on a relatively easy hike (mainly flat) to our lunch site (Miskay). After lunch we'll walk another 2 hours to Wayllabamba (a gradual uphill hike) where our campsite is located. We'll reach our campsite at around 5:00pm.
Distance travelled: 9KM
Approximate walking Time: 5-6 hours
Day 2: Wayllabamba - Dead Woman Pass - Paccaymayu
From Wayllabamba we will hike uphill until we reach the highest point of our Classic Inca Trail trek, Dead Woman Pass at 4600 meters. This part of the Inca Trail will take about 5 hours (7KM). From there we will go downhill for an additional 2 hours until we reach our camp at Paccaymayu at 3600 meters.
Distance travelled: 12KM
Approximate walking Time: 6-7 hours
Day 3: Paccaymayu - Runkuraqhay Pass – Phuyupatamarka - Wiñayhuayna(16KM)
From Paccaymayu we'll hike one hour uphill to Runkuraqhay. From here we'll hike an additional 1 hour to the second highest point on the Classic Inca Trail, Runkuraqhay Pass at 4000 meters. In another 45 minutes hike, we'll be able to visit the Inca ruins of Sayacmarka. After visiting these ruins, we'll hike about 25 minutes to get to our lunch site at Chakiccocha. After a hike of about 1 hour, we'll reach the third Inca ruin Phuyupatamarka which will also be our last pass at 3600 meters. We'll hike another 2 hours to reach Wiñayhuayna at around 5:00pm.
Distance travelled: 16KM
Approximate walking Time: 8 hours
Day 4: Wiñayhuayna - Sun Gate - Machu Picchu - Cusco(6KM)
At 4:30am we'll start our hike to the first control point of the day for the Inca Trail. We'll wait for a little while before they let everyone pass and then hike about 1-1 ½ hours to the Sun Gate where you'll have your first view of Machu Picchu Inca City. From here we'll walk an additional 30 minutes to the 2nd control point outside of Machu Picchu. We'll enter Machu Picchu, have a tour, and after walking around Machu Picchu for a while, you will take a bus down to Aguas Calientes and catch your train to Ollantaytambo where we'll pick you up and bring everyone to Cusco for the end of the trip.
Distance travelled: 6 KM
Approximate walking Time: 2 hours
DIFFICULTY LEVEL: BY DAY
| | | | |
| --- | --- | --- | --- |
| DAY 1 | DAY 2 | DAY 3 | DAY 4 |
| Moderate | Difficulty | Moderate | Moderate |
Day 1: Trekking Km 104 Chachabamba to Inti Punku ,the Sun Gate
Today our trek takes us along the most impressive stretch of the Inca Trail. We'll visit beautiful Inca sites, see a variety of flora and fauna and get to take in the fantastic panoramas of the Andes mountains. Covering 16km of the trail our journey begins in the Sacred Valley and works its way up along an original Inca Trail to the Inca site of Wiñay Wayna before continuing on to Machu Picchu via the Sun Gate (Inti Punku).
Distance travelled: 16KM
Approximate walking Time: 5-6 hours
Day 2: Aguas calientes,Machupicchu,Cusco
Waking up early at (04:00am) we will take one of the first buses back to Machu Picchu to access in the site as soon as it opens (06:00am) We are going to have 2 hours guided , during your guided tour you will learn about the Incas civilisation ,as well visit the entire place and the most important areas of the citadel.
After your tour finish you will have some free time to explore the place by yourself and if you have your entrance ticket to climb the Huayna Picchu mountain (2 hours round trip) or Machu Picchu mountain (3 hours round trip).
Distance travelled: 8.9KM
Approximate walking Time: 4-5 hours
DIFFICULTY LEVEL: BY DAY
| | |
| --- | --- |
| DAY 1 | DAY 2 |
| Moderate | Easy |