Inca Trail Weather along the trek to Machu Picchu
Weather can make a big difference on your Inca Trail trek. Heavy rain, freezing nights, scorching sun and hurricane force winds are possible on your trek to Machu Picchu. If you pick the right months though (see below), the days will generally be warm and dry, and the nights mostly above freezing. Just make sure you pack warm clothes for the evenings and a decent sleeping bag.
---

---
Cusco Weather
Cusco's climate is divided into two seasons: the rainy season, from November to April (the heaviest rains generally occur between January and March); and the dry season, from May to September.
The rainy season from November to April has a tropical downpour. Heavy, but the rains usually do not last long or the rain is often at night.
Machu Picchu and Inca Trail Weather
Along the Inca Trail (May to September, high tourist season), temperatures range from 15-20ºC (59°F-68°F) during the day if it is sunny, and from 05-10ºC (41°F-50°F) during the day if it is not sunny and from 0-05ºC(32°F-41°F) during the night in between the first and second campsites. In Wiñaywayna and Machu Picchu, which is a subtropical zone, at a lower altitude, temperatures are usually warmer, although warm clothing is still recommended at night.
The Inca Trail is closed for maintenance throughout the month of February. The low season can be a time when you can enjoy Salkantay Trek, Inka Jungle to Machu Picchu without the crowds of people.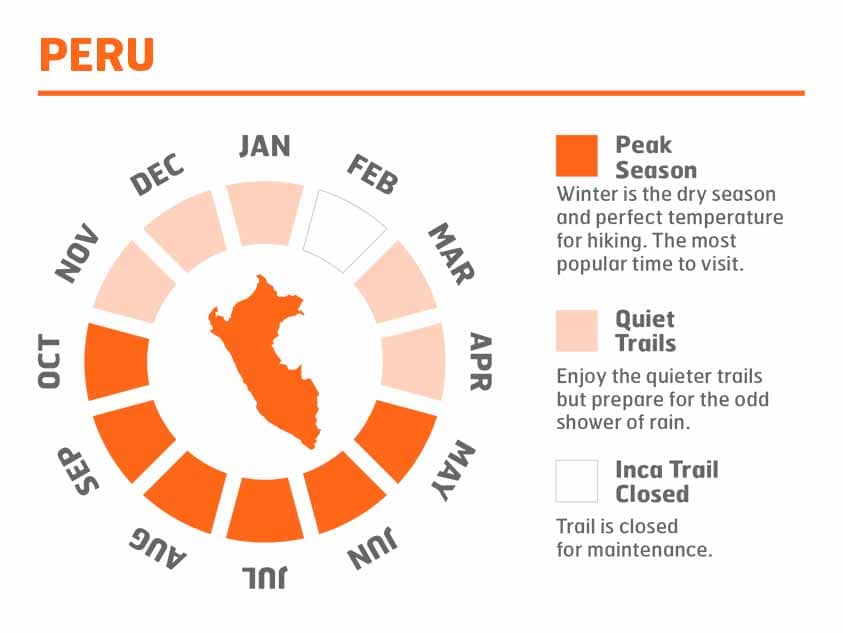 ---