Sacred Salkantay + Short Inca Trail to Machu Picchu in 6 days - 2022 & 2023
---
---
The Classic Inca Trail is by far the most famous trek in South America and is rated by many to be in the top 5 treks in the world, and the Salcantay Trek (also sometimes called the Salkantay Trek), was named among the 25 best Treks in the World, by National Geographic Adventure Travel Magazine. The total distance is 45 miles (74km).
ITINERARY
Day 1: Cusco to Soraypampa "Lodge Del Cielo"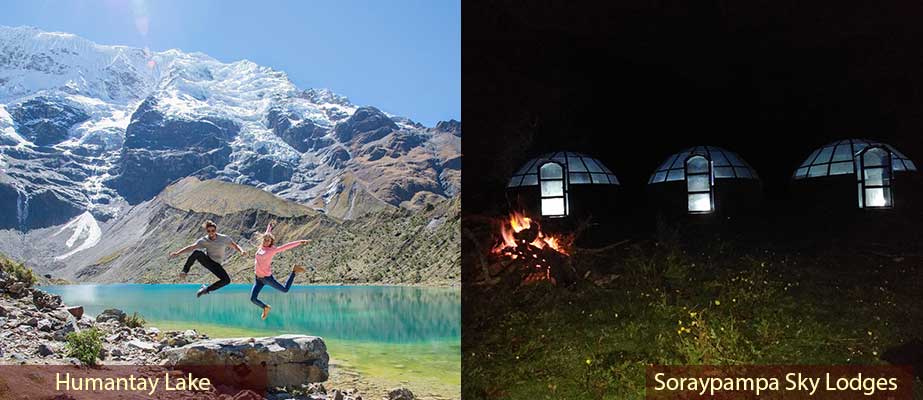 ---
Highlights: Humantay lake trek "Soft trekking day" – Acclimatization day.
Overnight at Soraypampa Lodge Del Cielo "Sky Lodge" at 3,869 m/12,690 ft
Walk and Terrain: Walk, high routes, open routes, dirty roads and more.
---
About our Lodge del Cielo in Soraypampa: Our camp is located at 10 minutes by foot from the village of Soraypampa, this gives us a huge advantage to have a 360 panoramic view of Humantay glacier, also it's a perfect place to escape away from the crowd, where we can appreciate the beautiful scenery of the Andean Valley and enjoy the company of our Alpacas.
Note: On the evening before of the first day, there will be a briefing with your guide in Cusco. After an early breakfast at your hotel, we are picked you up starting at 6:00 am at your Cusco hotel by ITEP guide and vehicle "Pick up time can oscillate and will be confirmed only on the day of your briefing".
We pass through the Mollepata village where we stop for a short break before ascending to Soraypampa.
Here in Soraypampa our campsite is called Lodge del Cielo. After Lunch time, we're going to Humantay Lake surrounded by glaciers on the slopes of the impressive Humantay Mountain.
Our 4-hours walking are necessary to reach the lake, but the view is worthy it and the braves can go for a swim at that altitude! Remember that the whole tour will be guided by a professional and experienced Tour guide.
6 hours (including a picnic lunch in the route)
---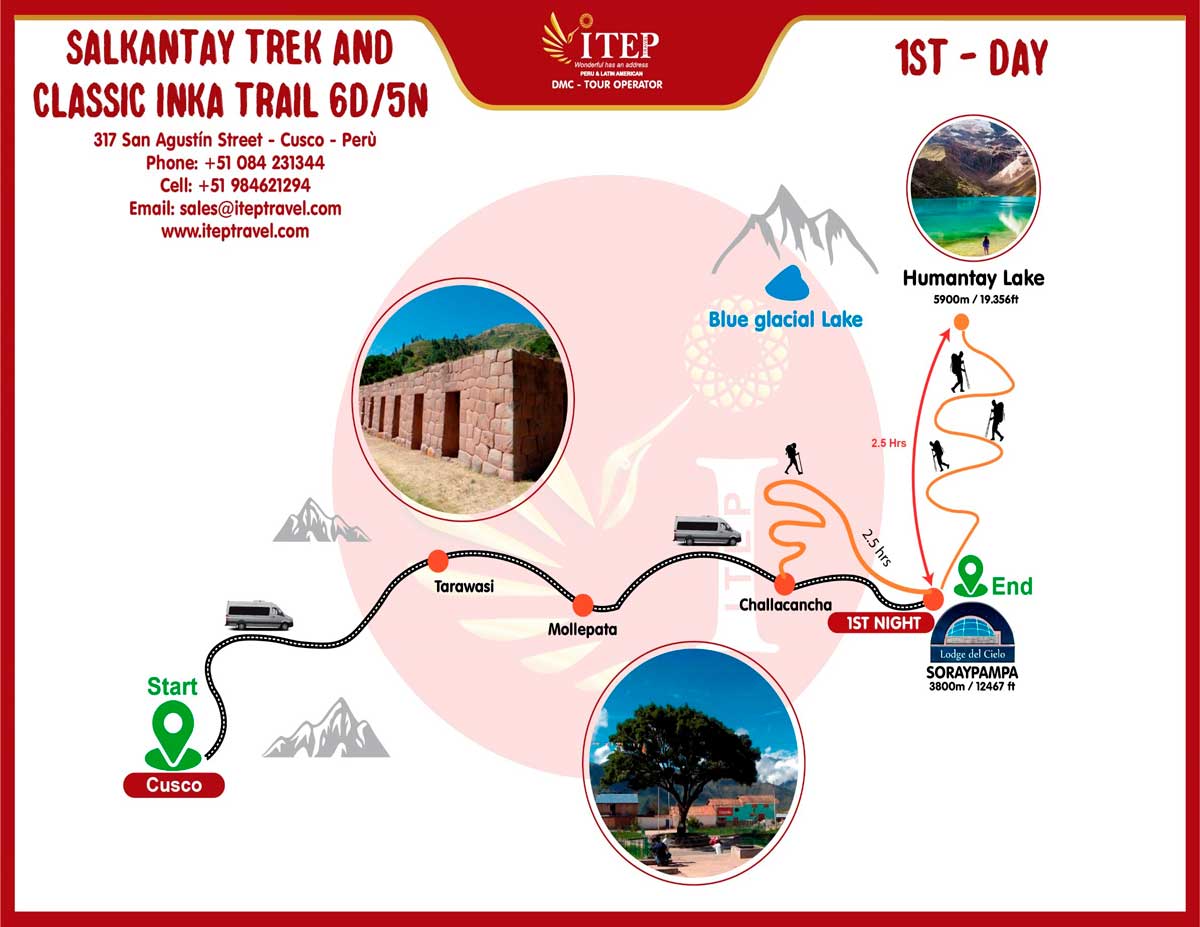 ---
Day 2: Crossing the Salkantay Pass "The challenge day"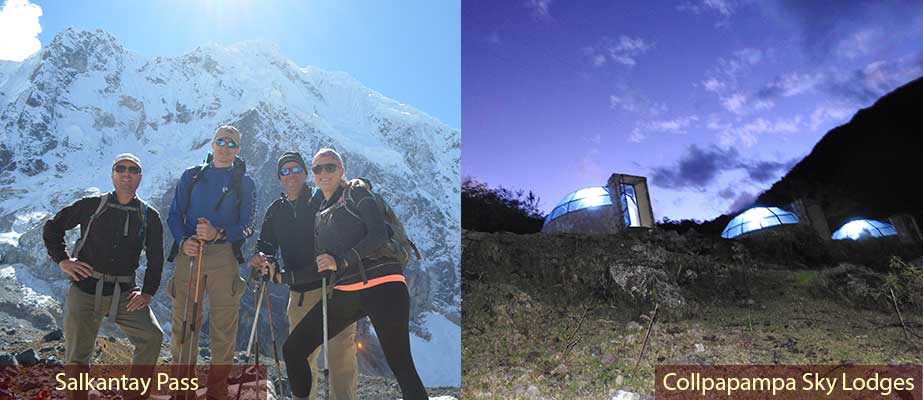 ---
Overnight at Collpapampa Sky Lodge at 2,870 m/9,414 ft.
Trekking Time: Approximately 12 hours (including picnic time). Our style is just walk slow, enjoy the landscapes and talk with our tour guide.
Walk and Terrain: Walk, on mostly steep trails, and some open slopes.
---
This day we will wake you up at 4:00 am and we'll give you a hot tea, then at 4:30 am we're going to have a nice breakfast for starting our trek at 5:00 am, will be the most difficult climbing day but we are going to go directly to Salkantay Pass. Our journey continues to Machu Picchu going through the Rio Blanco valley, Humantay Peak and in front of Salkantay Peak. This part will be the highest point on the trek, called Salkantay Pass (4,638 meters or 15,213 ft).
Into this high pass we'll stop more than 30 minutes to take photos and appreciate the snow-capped mountains of the Vilcabamba Range and the south face of Salkantay Mountain. We will keep our eyes out for condors on this area. From this high pass we'll descend towards to Wayracmachay that means "the cave where the wind lives" where we're going to enjoy a delicious lunch. After finished, we are going to continue by 03 hours descending by foot until we reach our next campsite; dinner and overnight at the Sky Lodge.
A LITTLE OF HISTORY:
The name Salkantay or Salcantay is coming from the Inca´s word Sallqa, a Quechua word meaning wild, uncivilized, savage, or invincible, and was recorded as early as 1583. The name is often translated as "Savage Mountain".
Directly to the north of Salkantay lies Machu Picchu, which is at the end of a ridge that extends down from this mountain. Viewed from Machu Picchu's main sundial, the Southern Cross is above Salcantay's summit when at its highest point in the sky during the rainy season. The Incas associated this alignment with concepts of rain and fertility, and considered Salkantay to be one of the main deities who controls weather and fertility in the west region of Cuzco.
About Our Lodge del Cielo base in Collpapampa: Our camp is located 10 minutes walking from the village of Chaullay, a very crowded campsite. However, our Campsite in Collpapampa gives us a huge advantage to have a 360 panoramic view of the Salkantay Valley, it is a perfect place away from the crowd where we can know a little of the local family.
---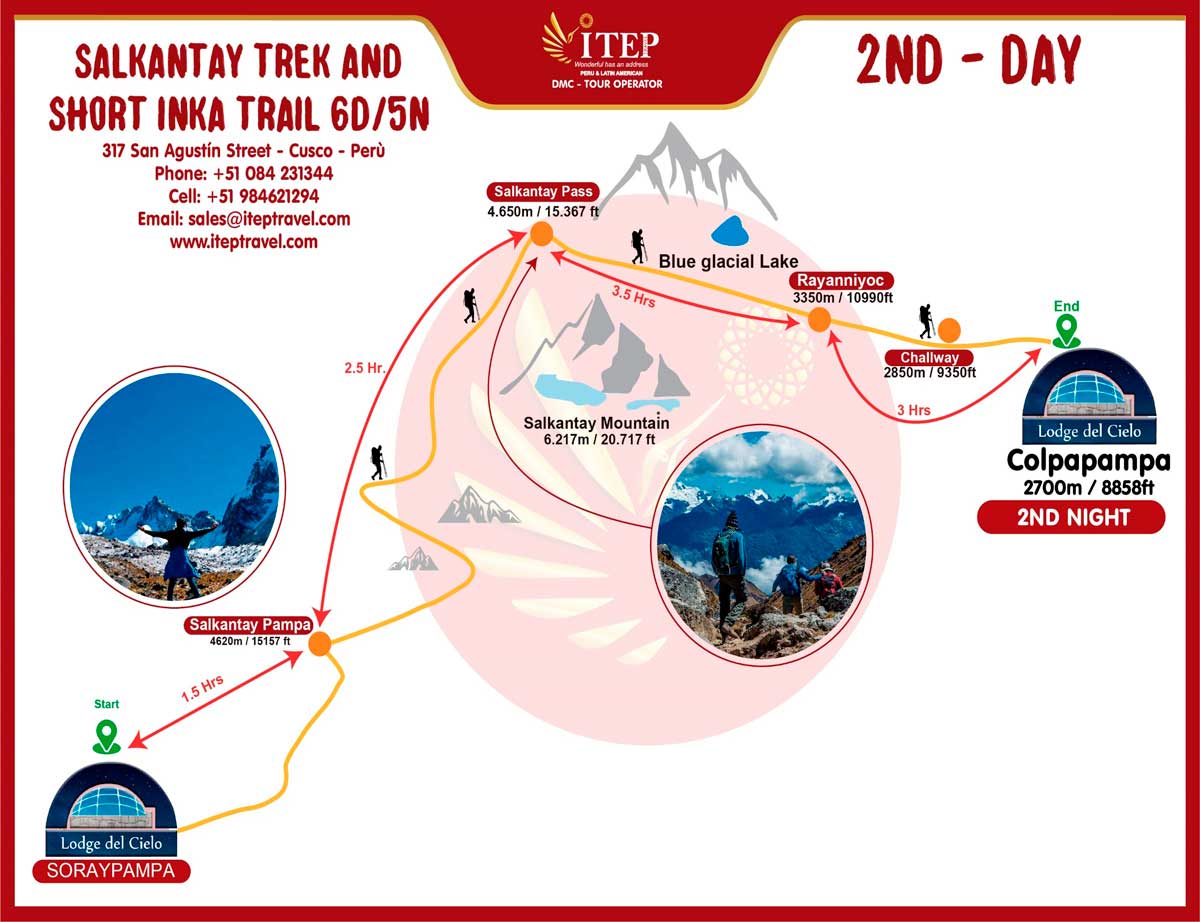 ---
Day 3: Descending into the Cloud Forest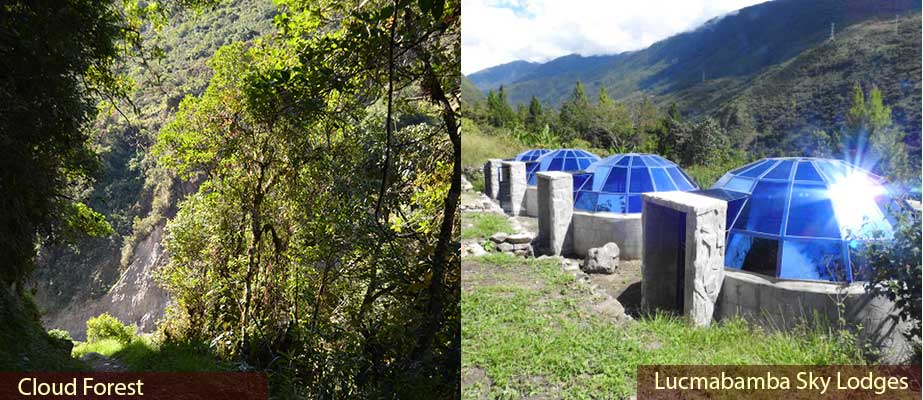 ---
Trekking Time: Approximately 5 hours
Walk and Terrain: Walk on narrow trails
---
Overnight at Lucmabamba Sky Lodge "Lodge del Cielo" at 2,062 m/6,765 ft
On this day we'll walk along the Santa Teresa valley going through rural areas, banana, passion fruit, avocado, orchards and coffee plantations. The coffee which grows here one of the best organic coffees in the world. Our ride takes us to the beginning of the "Llactapata Inca Trail", where we'll say goodbye to our horses and muleteers staff then we'll continue through one of the most variety landscapes of this trek. A short 30 minutes walking through avocado plantations to reach to our Sky Lodge in Lucmabamba. Dinner and overnight at our Sky lodge
About our Lodge del Cielo base in Lucmabamba: Our camp is located in Lucmabamba it's a perfect place away from the crowed groups where you can see the customs of the country men and farmers.
At this time their main economy is cultivate the coffee farms. Is our responsible to give them the opportunity to show themselves.
Optional: If you request a Private Service: We can have a local coffee experience
RESPONSIBLE TOURIST DEVELOPMENT FOR INCA COMMUNITY, "MACHU PICCHU'S HERITAGE"
THE INCA´S COFFE
Peru has a global reputation for producing traditionally shade grown and high-quality coffee beans.
Coffee production came to Peru in the 1700s. After two centuries, the farmers still comprise with this kind of production and the 60 percent goes outside as exportation. There are more than 110,000 coffee farms in Peru where the farmers are most indigenous.
The 'Flor de Cafe' (Coffee Flower) Rural Community Tourism Association from Lucmabamba - Bayona, is located in the Inca Trail (Lucmabamba – Llactapata - Ahobamba) with a final destination in Machu Picchu at a height of 2026 a.s.l where we can find 15 families that lives with this association.
These families found an opportunity to improve their life quality through touristic activities, sharing their ancient knowledge with tourists as well the visitors live the experience of flavors of this Coffee Tour (Ruta del Cafe).

---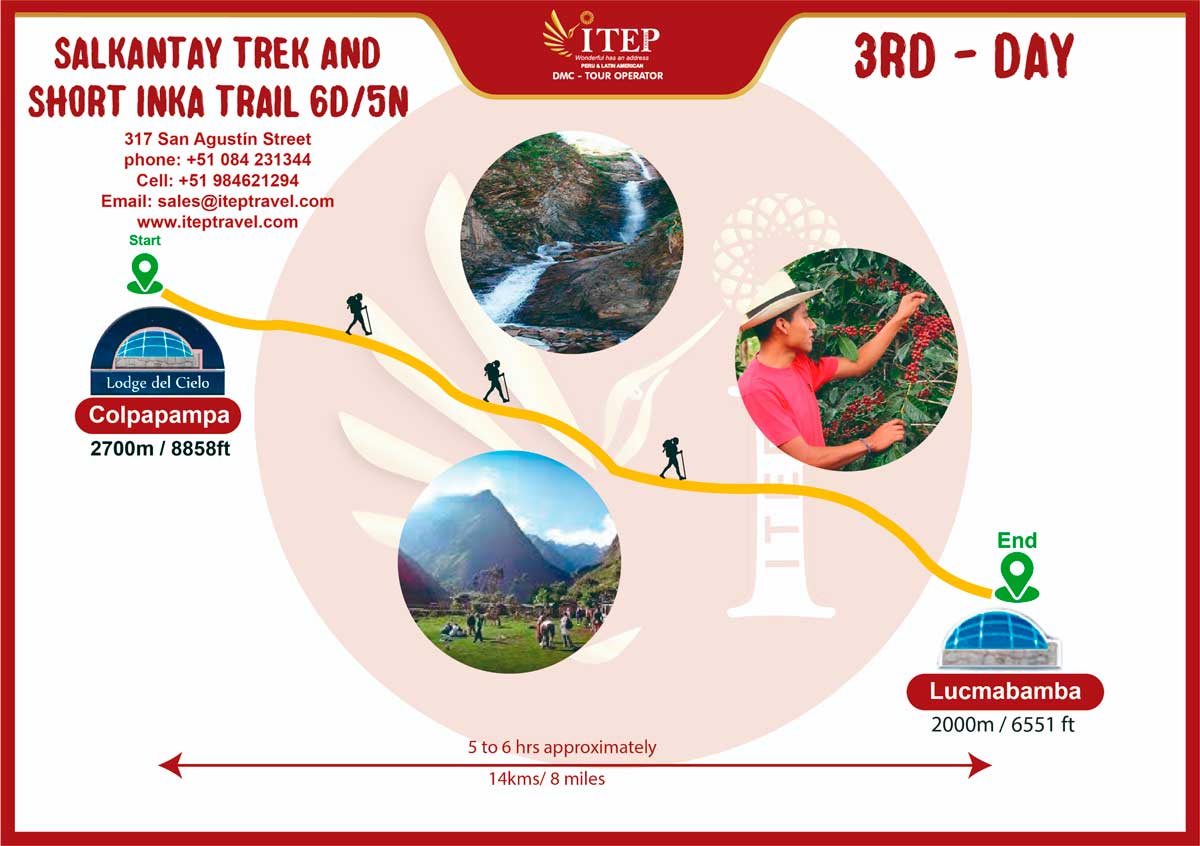 ---
Day 4: Inca Trail by Llactapata "1st view of Machu Picchu"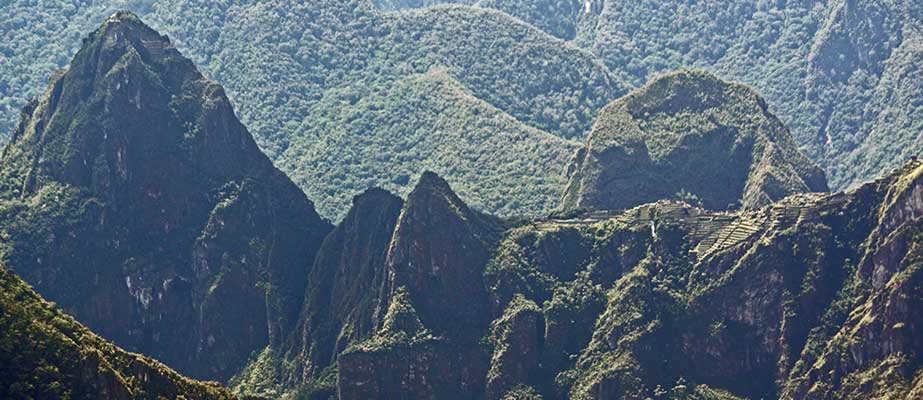 ---
Hiking Time: 5–6 hours
Hiking Level: Moderate to challenging.
About our overnight in Machu Picchu town: Hotel in Machu Picchu will depend according your request and expectations before starting the whole trek.

---
Overnight in Aguas Calientes at 1,900 m/6,232 ft
After a hearty breakfast, we will continue with the last day of our trek. We'll trek for 2-3 hours to Llactapata Pass (2,736 m/8,974ft), where we'll have an spectacular view of Machu Picchu Sanctuary from the southeast, a view that few travelers ever get a chance to admire. Here we take a short break to explore the Llactapata complex and then we'll receive the lunch at this scenic viewpoint looking out Machu Picchu. After seeing the amazing landscapes we'll begin with our final part of the trek to Aobamba river and through lush bamboo forests, orchards and coffee plantations. We'll arrive to Hydroelectric train station, for continue walking into the trails of the rail way until Machu Picchu town or also known as Aguas Calientes (approx. 3 hours). After this soft trek, we're going to our hotel then we'll have a celebration dinner with our guide and one last briefing for our next day experience!
Note - Those who prefer not to hike from Hydroelectric train station to Machu Picchu town, can take the train by 40 minutes of traveling, but remember that price isn't included in your package or tickets. They will meet with the rest of the group at the train station in Machu Picchu town. (The guide confirms your preferences the night before.)
A LITTLE OF HISTORY:
Bingham discovered Llactapata in 1912. "We found evidence that some Inca chieftain had built his home here with ten or a dozen buildings. Bingham locates the site between the valleys of Aobamba and Salcantay with 5,000 meters of Huaquina farm." "Here we discovered Inca constructions and two or three modern huts. The people around said the place was called Llactapata, that's why Bingham did not investigate the ruins thoroughly, however they were not studied for 70 years.
In 2003 Thomson and Gary Ziegler did an study that concluded the location of Llactapata along the Inca trail suggested that it was an important roadside shrine on the journey to Machu Picchu. This and subsequent investigations have revealed an extensive complex of structures and features related to and connected with.
---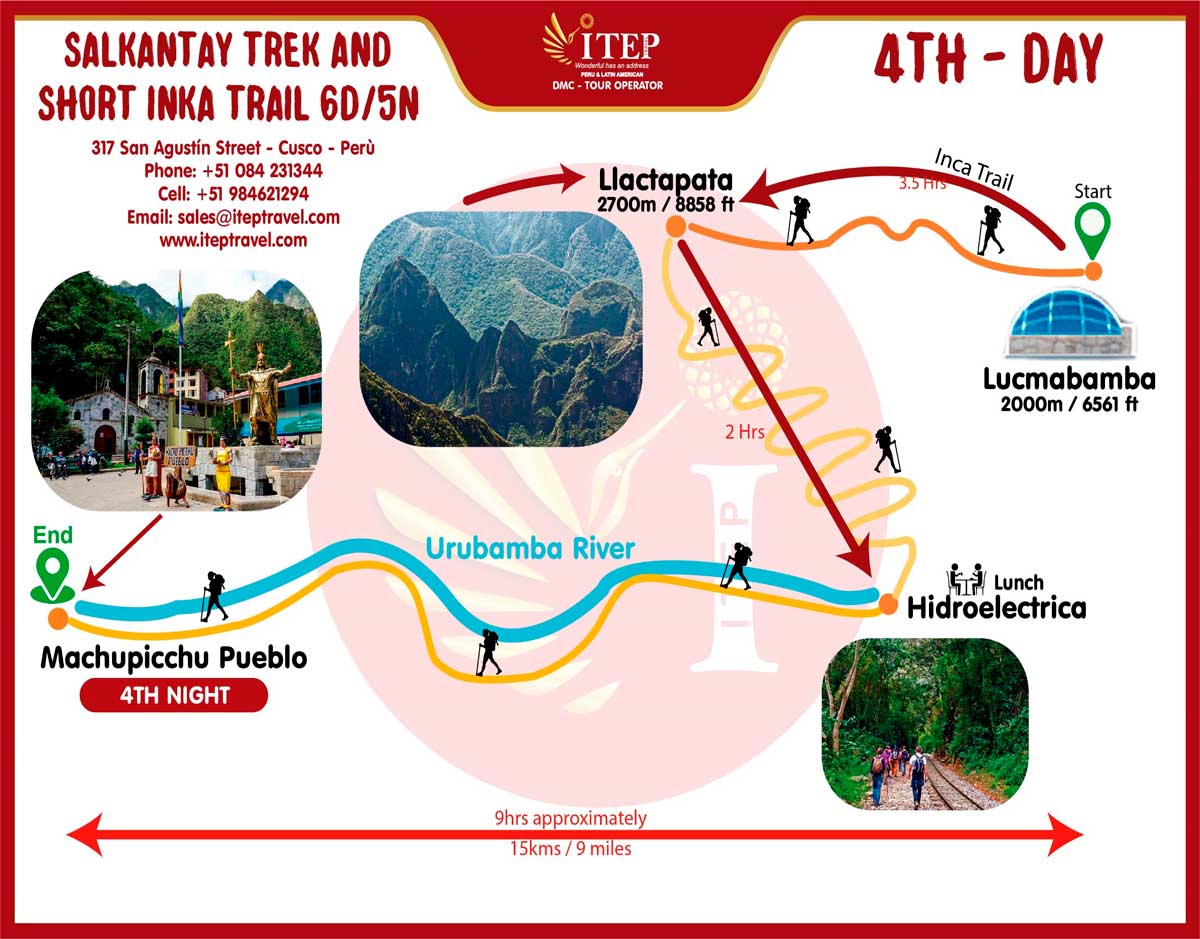 ---
Day 5: Royal Short Inca Trail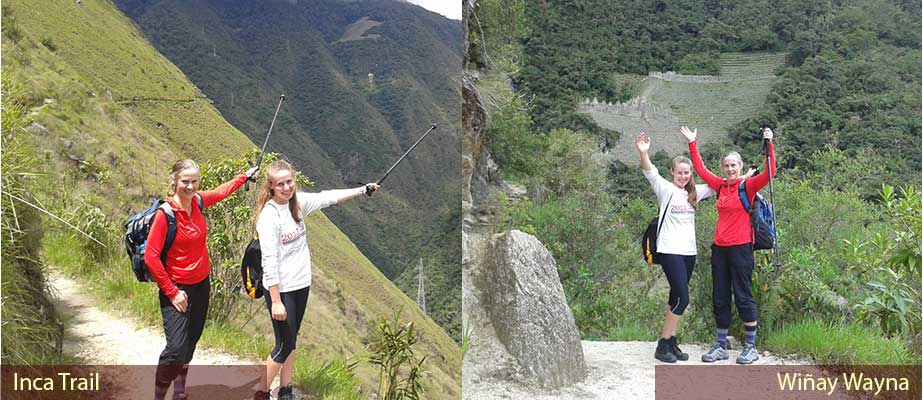 ---
Free time to Enjoy the Sunset in Machu Picchu after we've passed the Sun Gate, we'll carry on along the trail to get Machu Picchu town where we'll check in to our hotel
Meals: Breakfast, Lunch, Dinner
Distance: 6 kms/3.7mls
Difficulty: Easy
---
Today trek takes us along the most impressive part of the Inca Trail. We'll visit beautiful Inca sites, see a variety of wildlife, exotic vegetation and get to take into fantastic landscapes of Andean mountains. Our journey begins in the Sacred Valley through the original Inca Trail of Wiñay Wayna before continuing to Machu Picchu via the Sun Gate (Inti Punku). As we make our way to Machu Picchu, we'll pass through the cloud forest that covers the mountain and see a great variety of plants, flowers and birds along the way.
Also, we'll see mammals such as Vizcachas (rabbit-like Chinchillas) and Spectacled Bears (if we have lucky). After a full day of trekking, we'll arrive to Sun Gate (Inti Punku) here we'll have our first views of Machu Picchu citadel. The light of sunset provides you a beautiful view, at this time there will be fewer tourists in the site and its perfect time to take some pictures of the site without people.
---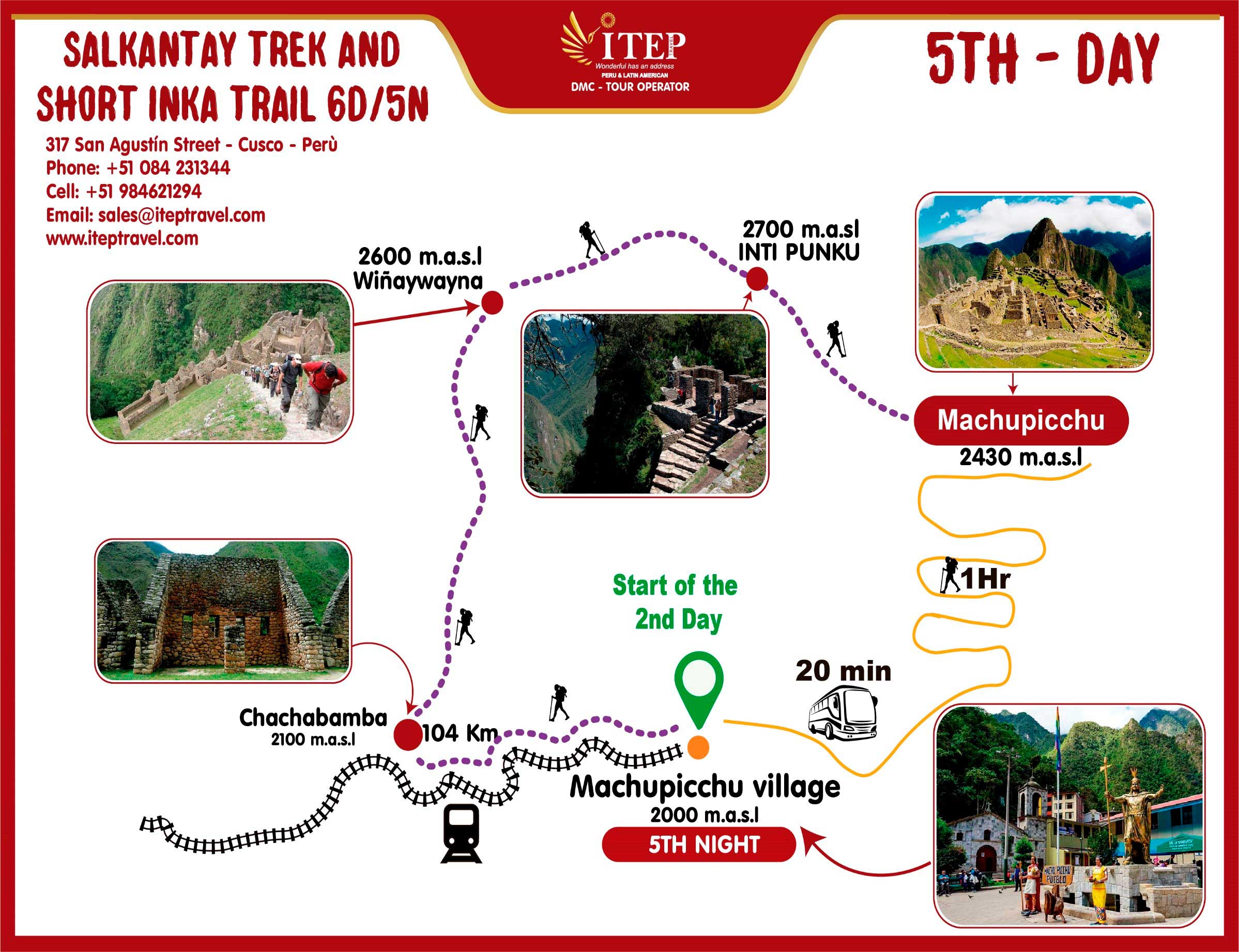 ---
Day 6: Visit Machu Picchu Sanctuary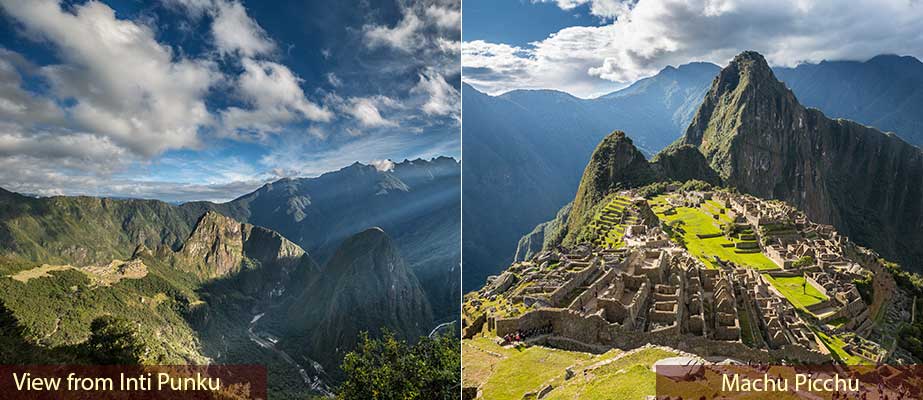 ---
Return to Cusco at 3,360 m/11,021 ft
Meals: Breakfast Distance: 6kms/3.7mls
Difficulty: Easy

---
After a very early buffet breakfast at your hotel, we'll take the bus to get to Machu Picchu Sanctuary (around 30 min). Our trip leader will give us an introductory guided tour of this place.
Machu Picchu Tour: We're going to be in the Inca City between 6 am or 7 am. The visit on this place starts with the best views on "The Guardian House" after 30 minutes of free time, our guide will give us a lot of information about the Inca City for around 1 hour and a half.
We'll continue into the Inca city by another 1 hour more passing the mean plaza, the temple of 03 windows and much more, then we'll arrive to the Sacred Rock "a very close to the entrance gate for Huayna Picchu Sacred Mountain", Our tour guide will give us some free time to explore the Inca city by our own.
Climb up Huayna Picchu or Machu Picchu Mountain is a choice that depends of you before starting the whole trek (not included in the price, spaces are limited, please let us know)
Very Important 1: According to Machu Picchu regulations, once we enter to the sacred city we aren't allowed to get back by the same paths "there are a lot of signs about which route we should follow and is forbidden to stop in some places", For that reason we recommend you to enjoy every minute that you will be here on each inca place.
Very Important 2: According to Machu Picchu regulations, entrance fees have only one paid; it means once you go out from the Inca city you can't return, unless you get a new ticket.
Back to Cusco: You will descend to Machu Picchu town by bus (included) and later you'll board the expedition train at 16:22 hrs. to arrive Ollantaytambo Train Station where you will meet our private transport to get at your hotel in Cusco.
About Salkantay and Inca Trail Campsites:
Please note: Campsites may change (be different from this itinerary) depending on booking time and availability, weather conditions or restrictions undertaken for safety reasons by Peruvian Government.
---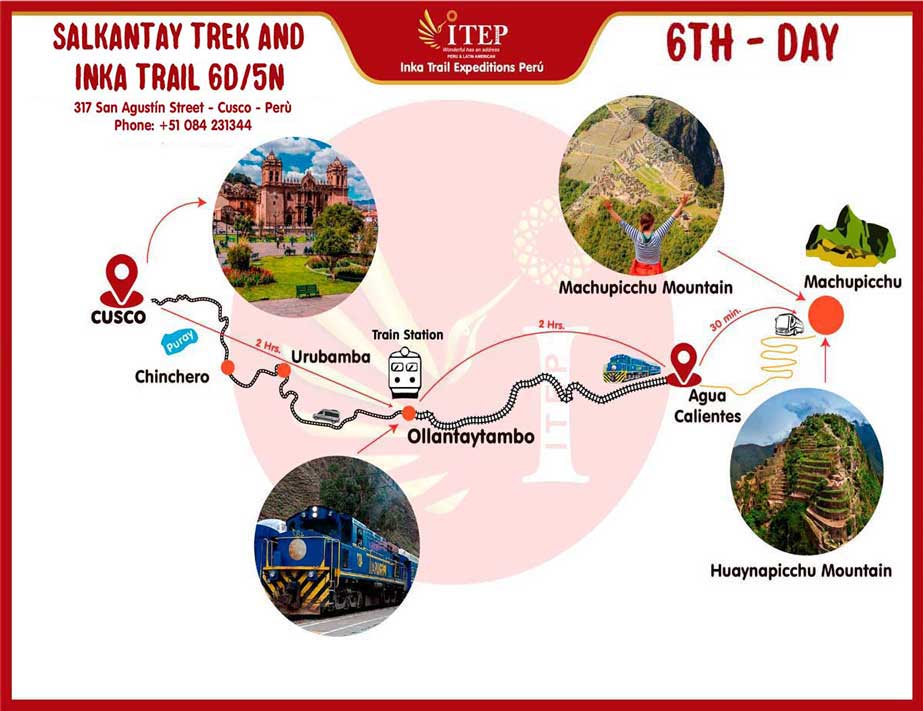 ---
End of our Services
INCLUDES
Pre-departure briefing: You will meet your Salkantay and short Inca trail guide and group in our office for an orientation before your trek. At this time, we will provide you with the duffle bags which will be carried by our horses. The meeting will be at 6:00 PM the evening before the trip begins. In case you can't come at this time "please let us know" to coordinate another time.
Touristic Transport: You will be picked up from your hotel in Cusco in the morning and will travel by private transportation to Challacancha, the starting point of the Salkantay and Short Inca Trail trek.
Adventure Experienced Salkantay Inca Trail Tour Guide: English speaking, professionally educated, and official tour guide with tourism certification. They all grew up in this region and have a true passion to teach others about their heritage. Your guide will explain the culture and surroundings along the entire route, including leading your group in ancient ceremonies! He or she will keep you safe, sound, and comfortable on your trek so that you can enjoy your time along the inca path and will ensure you are safe and happy.
Tour Guide in Machupicchu Cultural Experienced: English speaking, professionally educated, and official tour guide with tourism certification. For visit the sacred city of Machupicchu.
Private campsites: Each campsite is carefully choosed for have a very local experience.

Night 1: Relax on your soft bed in our Lodge del cielo in Soraypampa Campsite under the watchful eye of Apu Sacred mountain Humantay and Salkantay. Spend as many hours as you would like star-gazing through your elegant glass ceiling!
Night 2: Enjoy the 2nd night in our Lodge del cielo in Collpapampa campsite. You will find comfortable bed and a thick camping mattress free of charge. Camping is surrounded by the Sacred Mountains.
Night 3: Experience the 3rd night in our "Lodge del Cielo" in Lucmbamba, in your dome, you will find a comfortable bed, twin or double (depending on your stated preferences). Raw surrounding landscape of the cloud forest. We going to be very close to the local Families, they are heirs of the Inka culture and are very happy to share their lands with us.
Night 4 and 5th: The 4th and 5th night in our hotel www.hotel-encanto.com is included, which is in the town of Aguas Calientes; it is also known as Machupicchu Village; but if you prefer we can upgrade to 3 star hotel for USD 45 per night; the prices of hotels will vary according to your expectations and budget. However, we can offer you the option of joining us at our local accommodation Hotel Encanto Machupicchu "at no extra cost". hotel-encanto.com Our hostel in Aguas Calientes have double or triple rooms, private bathroom, hot shower, Wi-Fi, breakfast, and luggage storage while you visit Machu Picchu.

Note: It is not usual that campsites, lodges or hotels change after the confirmation, however it can vary per government regulations and authorization, also for bad weather conditions and maybe because physical condition of our visitors: Any changes in this matter ITEP travel will be informing you previously and as soon as possible.
Camping equipment: Dining and kitchen tents, tables, chairs, and cooking equipment (all carried by our porters and horses).
Entry ticket to Salkantay/Humantay lake
Entry ticket to Short Inca Trail "the Sun gate"
Entry ticket to Machu Picchu Inka Site
Loading Mules/horses: We will give you your duffel bag at your briefing the night before; to be filled with the things you will need for the next night and day. You will not have access to your duffel bag until you arrive at your evening campsite. On days 1 and 2, our mules/horses carry all camping equipment and your allowance of personal baggage (5 kgs/11.02 lbs). On days 3 and 4, your luggage will be carried by car or train to your destination until we arrive to Machupicchu. On day 5th your luggage can be storage at your hotel.
Professional Trekking Chef: A professional chef specialized in cooking on the trail, with an assistant, will prepare all of your delicious meals along our journey on the Trail to replenish your energy every day. You will never go hungry!
Meals: 5 Breakfasts, 5 Lunches, 5 Dinners (Vegetarian, vegan, or special menus are available at no extra cost) Please be in mind (1st breakfast and last lunch is not included"
Boiled Water: Beginning from your first lunch until your last breakfast, Inka Trail Expeditions will supply all the water needed. This water will be boiled, filtered and then cooled, before distributing. You must supply your own water bottles or camel back. We recommend carrying about 3L worth. We will refill our waters at each meal.
Wake up tea: Every morning at the campsite, you will wake up with a cup of coca tea! Our staff will bring the tea to your tent so that you will be warmed from inside out before you start your day.
Tea time daily during the Salkantay Trek part: Every afternoon before dinner, the cooks will provide our tea time with popcorn, biscuits, coffee, hot chocolate, teas, hot water, etc. After a long day of hiking, you will not have to wait until dinner to relax, warm up, and enjoy a bite to eat!
Products for hygiene: You will be provided with a small towel before each meal to clean your hands and every morning will be also a bucket with warm water for washing your personal hygiene.
Medical kit and Oxygen bottle: Our crew will bring a first-aid kit, including emergency oxygen bottle.
Train tickets: From Aguas Calientes "Machupicchu village" to Ollantaytambo train station (departure time is confirmed the day of briefing and it´s subject to availability)
Transfer back to Cusco: Private touristic transport from Ollantaytambo train station to your hotel in Cusco (Day 6)
24-hour guest service: We have telephone service available 24 hours/day for ease of communication and preparation with the agency leading up to your trek.
03 Bus Concetur to/from Machupicchu inca City: Most of the times the wait to board the bus to Machupicchu is from 1 hour to 1:30 min, so we prefer that you decide a day before your visit to the Inca city of Machupicchu. If you wish to take the bus considering the waiting time. Or if you prefer to do the last stretch of ascent walking up 45 to 1 hour "
WHAT IS NOT INCLUDED
You can rent one from our company if you do not have your own. Our sleeping bags are effective and durable to protect from temperatures as low as -18ºC (0ºF). They are mummy form and include a sleeping liner. The bags are cleaned after every use.
1 Duffle Bag: You can put your personal luggage, up to 5 kgs (11.02 lbs.), including your sleeping bag; this bag will be carried by our horses.
Sleeping Bags: everything will depend on your physical state, after the trekking done".
Walking Sticks: You can rent a set from our company if you would like.
Climb Huayna Picchu / Machu Picchu sacred mountain
Panoramic Vistadome train
Day 1: Breakfast: Approx. USD 5 to USD 10.00, Price can vary according your selection.
Last Day: Lunch and Dinner in Aguas Calientes. Approx. USD 20 to USD 25.00, Price can vary according your selection.
Personal clothing and gear
Travel Insurance
Tips for our staff: Please note that our agency staff is well paid so please feel free to tip or not as you wish "Recommendation usd 6 to usd 8 per day per traveler for all the trek staff"- Once again it is optional and can vary according your satisfaction.
Option: If you feel tired after the trek to and from Llactapata, you have the option to take a train from Hidroelectrica to Aguas Calientes. (Cost: USD $34.00)
Additional costs or delays out of control of the management (landscape, bad weather condition, itinerary modification due to a safety concern, illness, change of government policy, political instability/strike, etc.)
Molecular COVID-19 test: We can add a COVID-19 test to your package. The test can be taken at your hotel one night before your return flight.
YOU NEED
Original Passport
Day Pack
Full rain gear or poncho
Gloves (thin riding and warm gloves)
Headlamp Sunglasses
Hiking Socks Sunscreen
Insect repellent Bathing suit
Trekking pants
Breathable dry fit top-wear
Comfortable shoes/flip-flops
Cold-weather jacket
Long-sleeve fleece/sweater Wool hat
Hiking boots
Baseball cap, sombrero and bandana
Headlamp Sunglasses
Hiking Socks Sunscreen
Insect repellent
Bathing suit
Casual mountains wear for evenings
Photo/video cameras and chargers
Binoculars
Refillable water bottle (hydration bags are recommended)
RESERVATIONS
For availability of spaces for this service, please contact us info@incatrail.org and we`ll send you detailed information, prices, terms and conditions.
Please keep in mind that significant price reductions are available for groups. All our tours are fully guaranteed, departure every day. Contact us for more information for the tour that you are choosing, or to begin customizing your own itinerary. recommendations:
"ITEP Eco Travel is a tour operator travel agency in Peru and the city of Cusco, We really know what we do and offer, We are well managed, with several offices in Peru and a long list of travel destinations, offering all travel alternatives in Perú, from family trips, honeymoon trips and luxury travel, including adventure tours and exploring trips to the jungle, for almost any budget"
NOTE: ITEP Eco Travel, specializes in organizing the ideal travel plan to Peru, with hotels and destinations that you choose, because we have all confidential and promotional rates. For guidance on how to organize your custom package. Please write us.